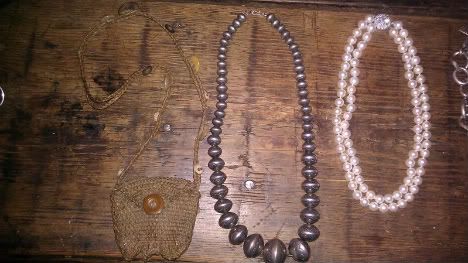 Always attracted to shows at museums which reveal an aspect of a culture through the jewelry created and worn, I decided to take an anthropological tour of my own small collection during a recent rash of cleaning. It's not as if I own a lot of jewelry, and certainly little of it is precious, at least in the conventional sense. But I have collected pieces throughout the years, and I found it interesting to note what I had held on to,examining these pieces for common threads or obvious signs of different phases of my life.
The first pieces are like a Cliff's Notes version of my journey from hippie girl in crocheted waxed linen to boho woman in Navajo silver to corporate executive in my grandmother's pearls. All of these were gifts, and all reflected a version of me I was trying on or someone else wanted me to be. None of them were worn frequently, but they do each represent a point in time, a cherished memory, and thus will remain with me probably for life.
As I have grown older and my personal style has solidified, I have tended to gravitate toward iconic pieces, pieces which I am happy to wear every single day and feel almost naked with out. Both of the silver necklaces fall into that category, and as I stared at them, I realized they each let me be me, neither overpowering me nor shying away, announcing my love of design without shouting.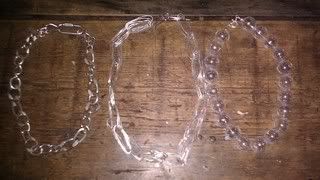 The glass bead necklace, another gift, reminds me that I can continue to try on new styles, add pieces and experiences to my life which, while perhaps not suitable for everyday use, continue to add richness, color and memories. While none of us are defined by what we wear, we can use personal adornment to express a mood, a feeling, or a fantasy and I look forward to adding to my treasure trove, both literally and figuratively.