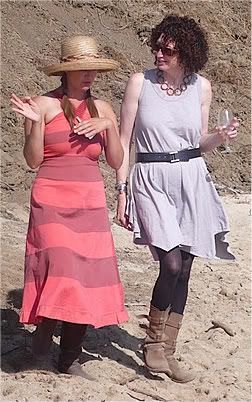 My daughter and I share a style maxim: as long as you have to get dressed every day, you might as well look fabulous. Granted, there are many days when I neither live up to that nor even care, but for the most part I do enjoy the pleasures of a great dress, some great shoes, and fabulous accessories.
Back in the 80's, Donna Karan provided many of us working women with the keys to looking fabulous all the time with her power jackets, body suits, and sexily draped skirts. Today life is so much more casual, power dressing no longer plays a part in my choices, and my professional identity is inextricably linked to art, so the challenge of what to wear to an event is far more interesting than it used to be. Add to the mix that lately I have been invited to events with Silicon Valley types and I find the I've been questioning what's appropriate to wear to where.
The answer? Bingo. Wear what I want. Or as Zana posted on her mirror when she was 8 years old, "Be Yourself". It worked for me Sunday evening out on the beach in Half Moon Bay with a bunch of venture capitalists, as it did for Katy, also shown in the photo. Ourselves, our way, our fabulous.